Practising math skills can be exciting, without always having to involve complex equations and multiplication tables! As your child plays with board games, he or she can hone math skills too!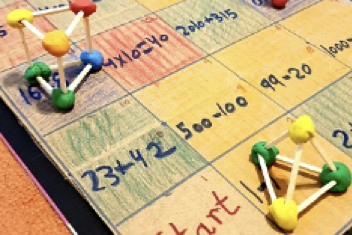 Moreover, if you are looking for something engaging for the whole family, check out these 5 fun math board games that teach math skills and guarantee a ton of fun! 
1. Pizza Fraction Fun Game
As the name suggests, Pizza Fraction Fun Game ensures that your child can find math both fun and delicious at the same time! As the game progresses, your child can soon notice fractions, match fraction equivalents and also learn how to add and subtract using fractions.  As the difficulty level rises, the game can be made more exciting and challenging to put players' math skills to the test.  This game is in fact seven-games-in-on, thus ensuring that no one who plays this game would get bored. Have some real pizza close by while playing, to avoid the temptation of trying to eat the playing pieces! 
Ages: 6+
Players: 2-6
2. Head Full of Numbers
Commonly touted as the Math version of Boggle, players play this game by rolling six dice out of a shaker that looks like a mad professor's head. Next, players put the dice in a tray and attempt to construct as many mathematical equations as possible with the numbers rolled out.
The strict time limit is a huge factor in adding to the challenge as well as to the adrenaline of this fun math board game. While beginners can use addition and subtraction, division and multiplication can be employed for more seasoned players.
Ages: 8+
Players: 2+
3. Monopoly
Believe it or not, Monopoly can be a fun math board game to teach your child some calculation and probability  skills! This family favourite is full of lessons teaching players how to add, subtract and multiply using fake money to purchase and rent properties out.
Budgeting skills can be learnt as well, as players have to spend their money prudently. 
If your child is struggling to understand probability outcomes, you can inject some more fun to the game by challenging him or her to roll doubles and offering some monetary incentives as a reward!
4. Equate
Commonly associated with Scrabble, Equate is another fun math board game for your child and for the family. Scrabble players get points by using letter tiles to make words but Equate players assemble equations with number, fraction and mathematical symbol tiles to earn points.
Like Scrabble, players can earn extra points by putting tiles on 'double equation' or 'triple symbol' spaces (just like the 'double-word' and 'triple letter' squares in Scrabble). Thus your child and other players can hone strategic thinking and planning skills while enjoying this game! 
Ages: 8+
Players: 2-4
5. Prime Climb
A combination of Ludo and Snakes & Ladders, Prime Climb is a super fun math board game that could get your child excited! Besides teaching children about prime numbers, players can practise their addition, multiplication, division and subtraction skills in a competitive and adrenaline-pumped environment.
Ages: 10+
Players: 2-4
Teaching young kids math processes from the book can sometimes be challenging, especially if your child feels bored or overwhelmed by complex equations and explanations.
Yet you can make math fun for your child by getting him or her to play these aforesaid fun math board games. Not only can your child increase his or her confidence in math, the whole family can have memorable fun!
References 
"5 Fun Maths Board Games that'll improve your children's Maths skills," Whizz. [Online]. Available: https://www.whizz.com/blog/fun-maths-board-games/. [Accessed: 19-Sep-2022].

(I. G. Images), "Board Games for kids that help to boost their maths skills," Dailystar.co.uk, 16-Feb-2021. [Online]. Available: https://www.dailystar.co.uk/real-life/board-games-kids-help-boost-23510750. [Accessed: 19-Sep-2022].