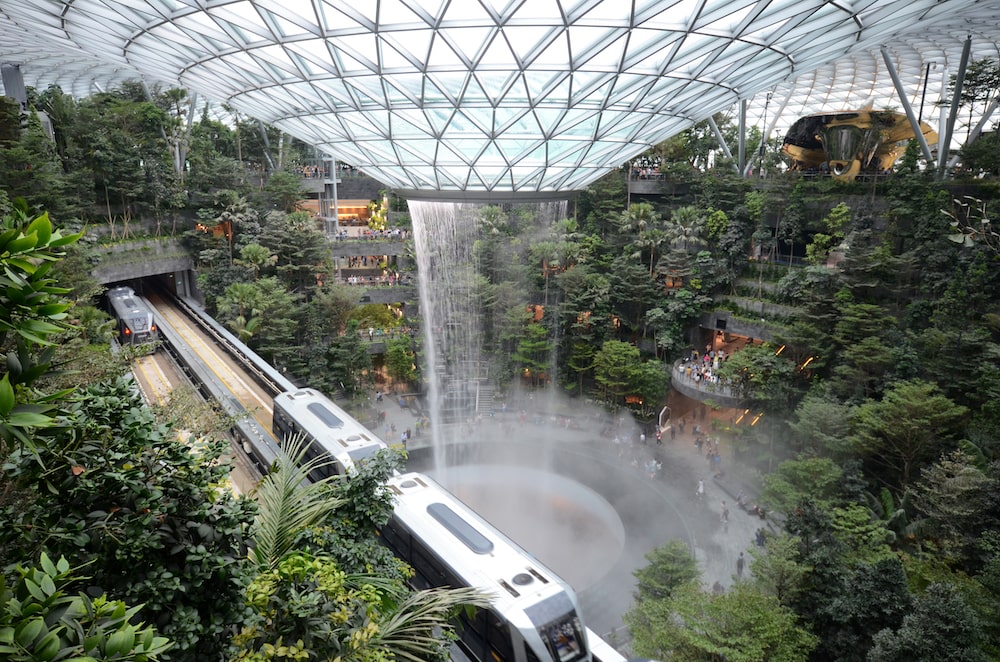 Want to experience an outdoor-like experience at any time of the day with your family and loved ones but are daunted by Singapore's hot and sultry weather? Well, our planoShop partner,Jewel Changi Airport (Jewel), has you covered. 
A sought-after destination for locals and foreigners in Singapore alike, Jewel Changi Airport is Singapore's top-class lifestyle destination that offers a wide assortment of activities and amenities catering to individuals and families alike. The brainchild of eminent architect Moshe Safdie, Jewel's iconic steel and glass exterior enables natural light to dapple through the entire complex while minimally relying on lighting fixtures. The natural daylight that fills the interior of Jewel is enhanced by lighting installations to create a round-the-clock visual experience for visitors.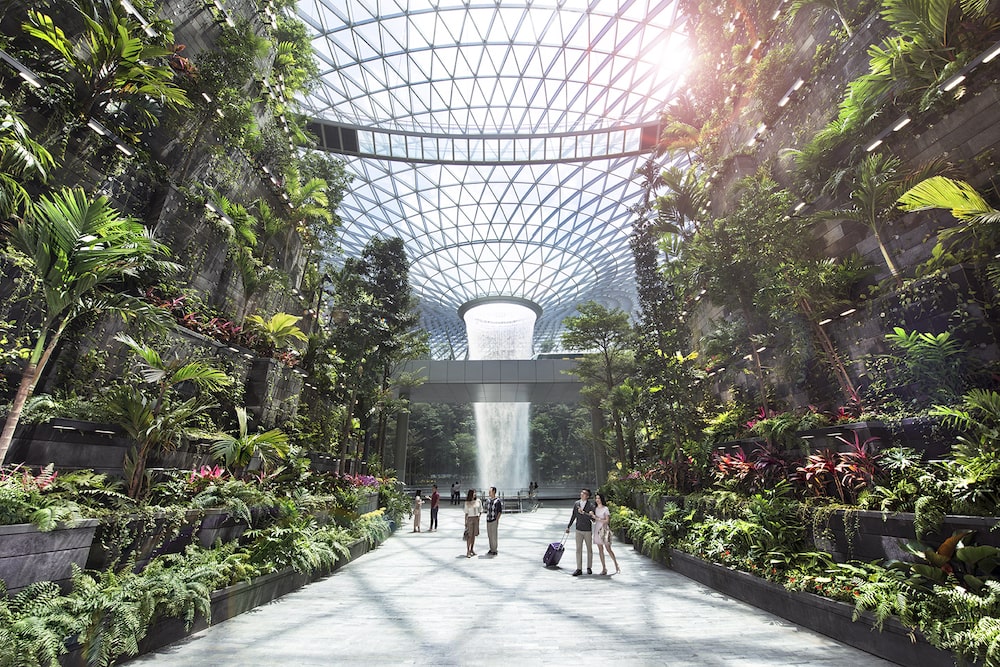 On the exterior, Jewel Changi Airport radiates with bluish-white lighting that regularly interchanges with various blue shades and that alleviates the stress from a hectic lifestyle and urban city environment. The interior space is decked with an amphitheatre where visitors can enjoy various degrees of lighting and colour throughout the day while relishing the garden and retail spaces in it. The garden spaces are dotted with heterogeneous pockets of light to mimic an outdoor park, enabling you to appreciate the surrounding verdant greenery.
Such choreographed lighting spaces in Jewel can also be found in the Shiseido Forest Valley where you can immerse yourself in. This paradisal landscape with lush greenery and abundant flora would inspire you to take a leisurely stroll with your loved ones along the walking trails within the Forest Valley from Level 1 all the way to Level 5. 
Almost touching the glass roof of Jewel Changi Airport is artistically appealing Topiary Walk with its imaginative shrubbery that is sure to attract the attention of everyone who passes by. Spot the aesthetically pleasing animals designed out of plants with your eye as well as with your camera. Indeed, strolling along the Topiary Walk is akin to walking around in the Botanical Gardens and enjoying doses of natural light without having to sweat it out. 
Also, you and your family could have your pick at the range of exhilarating play attractions at Canopy Park (Level 5). Bouncing nets, mazes, and slides at Canopy Park would be enough to get your children excited and jumping with glee. While your children can glide down slides and play hide-and-seek at mazes under the cover of the glass canopy that provides for natural light, you can also look forward to tranquil and relaxing moments at dining outlets.
6 Attractions Available At Jewel Changi Airport
Tired of the concrete jungle that is Singapore and sick of cabin fever? Well, unwind and relax with your family at the visually stunning Jewel Changi Airport today that appeals both to adults and children.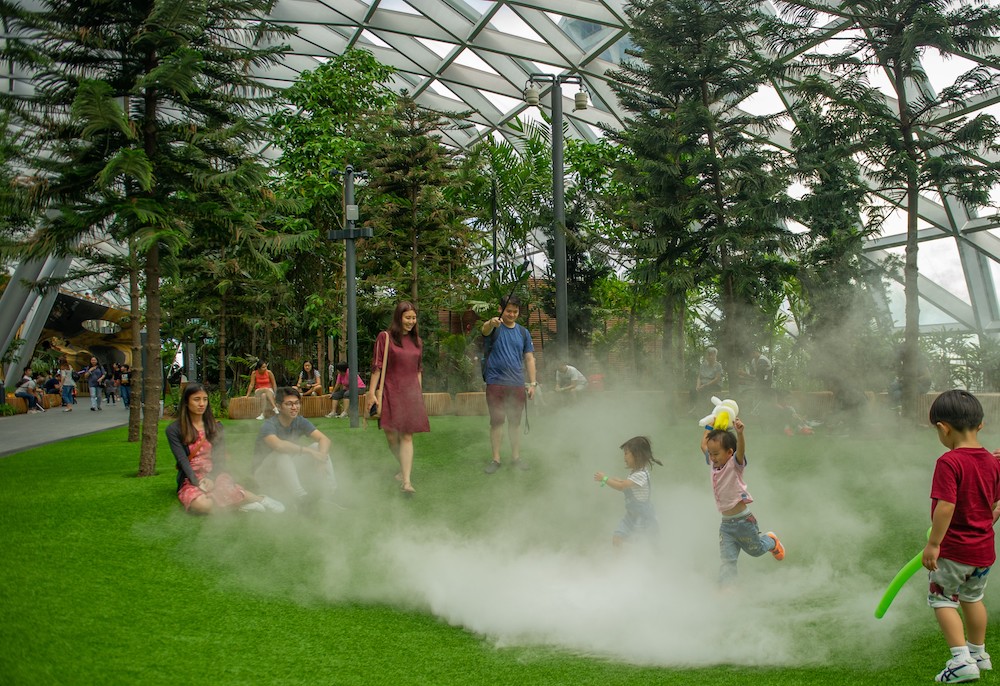 Canopy Park
Situated at the topmost level of Jewel, Canopy Park offers an array of bouncing nets and mazes for you and your loved ones to have an exhilarating and memorable time.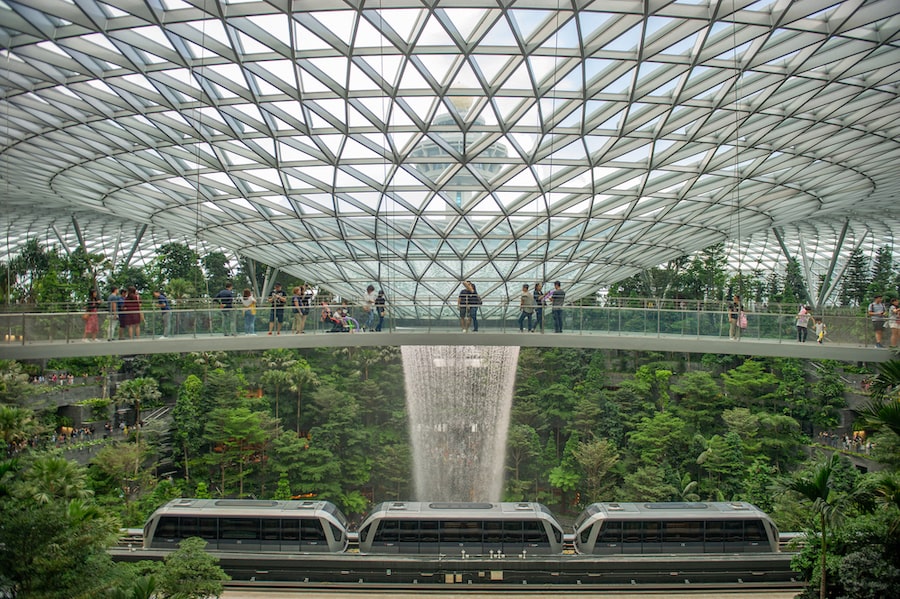 Canopy Bridge
The bridge is constructed 23 metres above ground level and emits fog at both ends to give you the experience of walking in the clouds.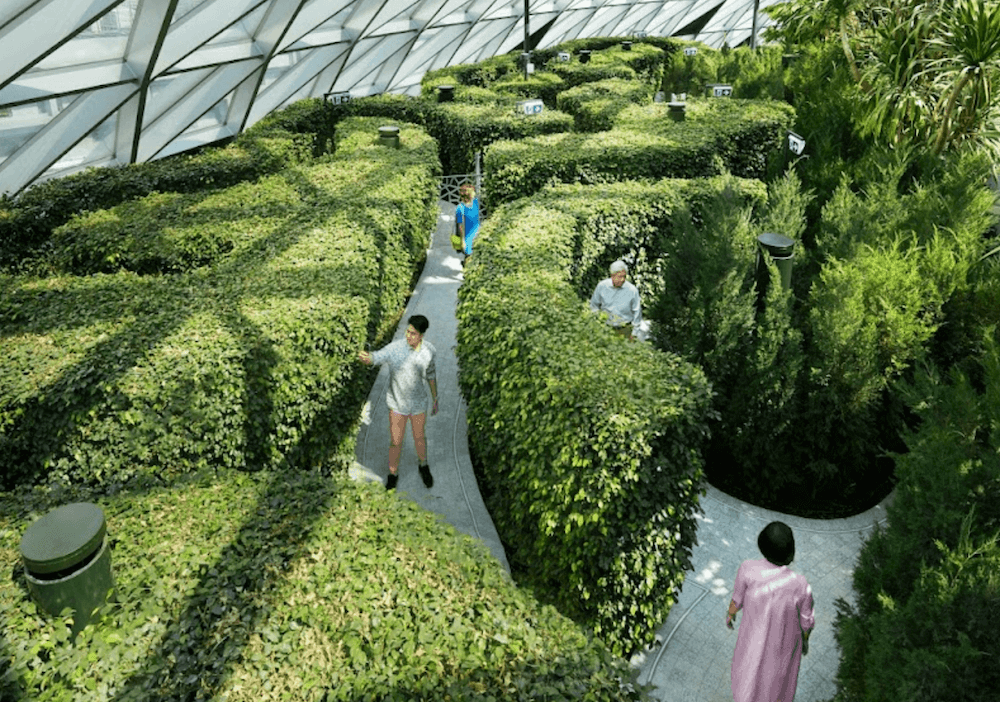 Hedge Maze
Enjoy your stroll along Singapore's biggest green playscape with a watchtower at its centre.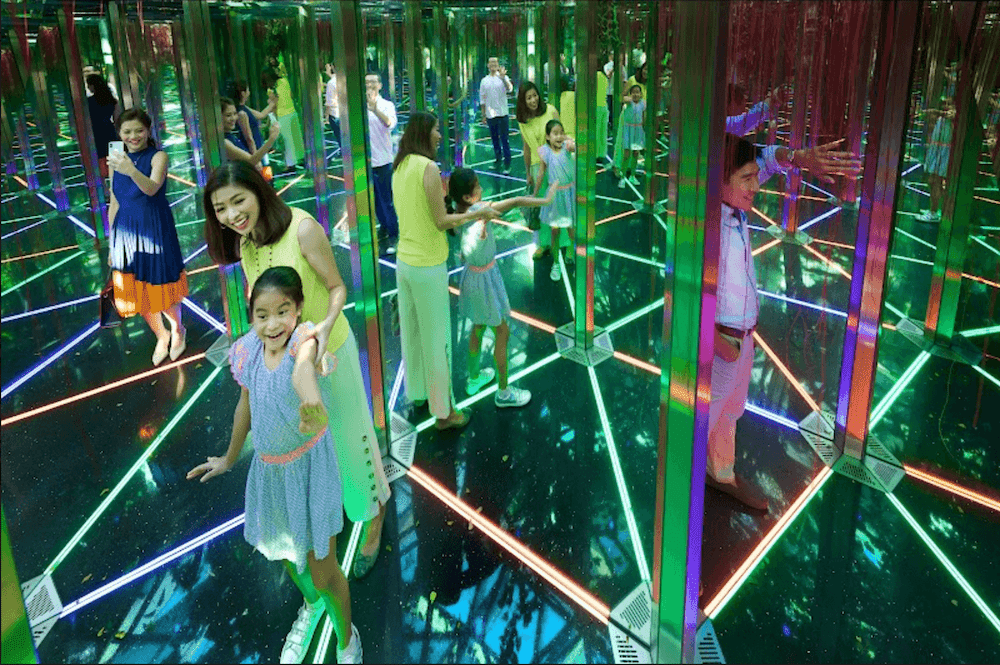 Mirror Maze
Challenge yourself and your loved ones to successfully walk through a wall of mirrors without bumping into any of them.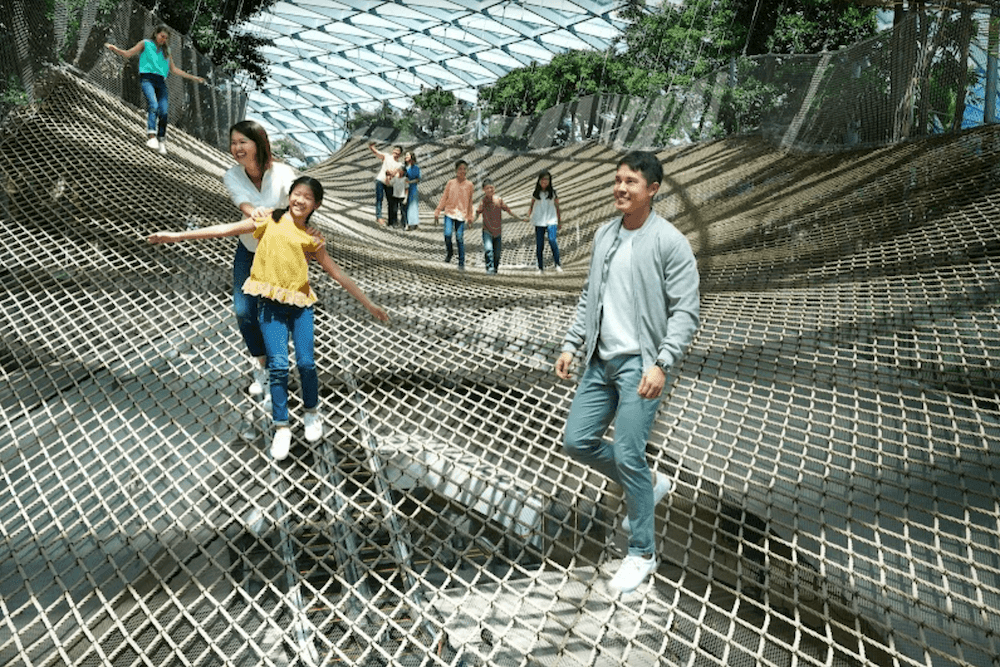 Manulife Sky Nets – Walking
Go beyond your comfort zone by walking across this tight web of nets 25 metres above ground level for an exciting time.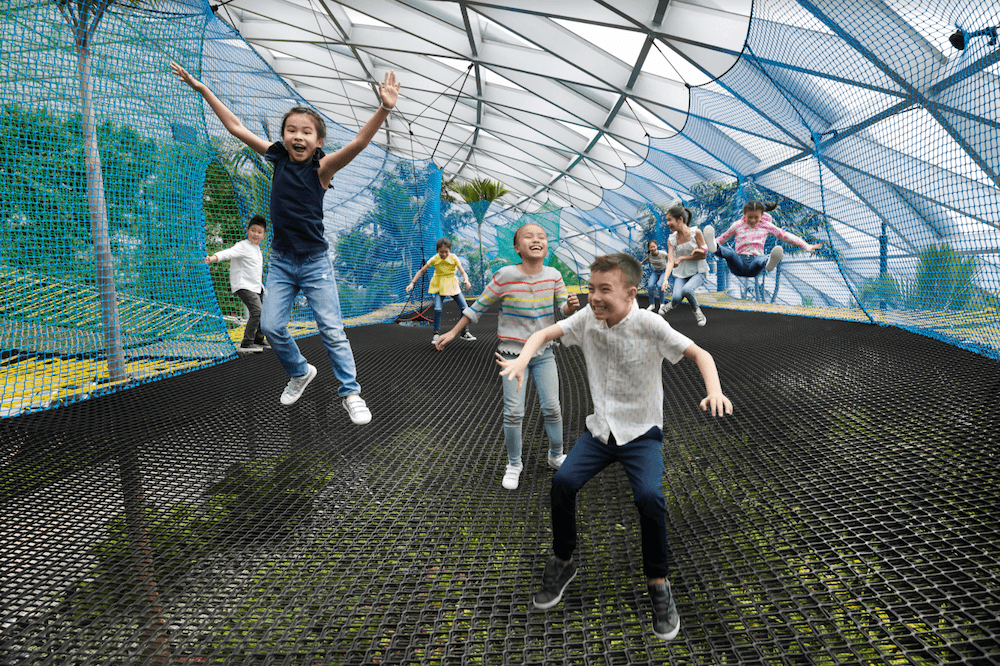 Manulife Sky Nets – Bouncing
If you want to experience what it is like to be 'weightless' bounce across these nets instead. 
If you wish to purchase your tickets at Jewel, you may do so at the Concierge counters (L1, L2, L5) and ticketing kiosks (L5).