Supporting your children's mental health through creative outlets with Times Bookstores!
Since the global pandemic, there has been an increasing number of children requiring support for their mental health and well-being. While it is easy for parents to identify their child's physical needs, emotional and mental needs are often overlooked. A positive mental health and well-being allows for kids to develop social skills, self-confidence, self-esteem and an overall positive outlook on life, which are all essential for one's future success. In this article, we will explore how you can support your children's mental health by engaging in creative activities with Times Bookstores.
How can you help to support your child's mental health with Times Bookstores?
It turns out that art engagement is one of the most effective ways to aid mental health in young children. Given a child's limited vocabulary and verbal skills, art activities can help children express their thoughts, feelings and emotions with little strain. Children are also naturally creative. It is our job to give them the materials and space they need to tap into their creative instincts and enhance their story-telling skills.
The ability for children to express their stories through creative channels in a safe and non-threatening environment helps to support their mental health. Fostering close social connections through shared art experiences also builds up your child's social resources, which can help to buffer against the impact of stress.
Tips for parents to support children's mental health through Elm Tree's Art
If you are not too sure where to start, look for creative hands-on art activities that your kids enjoy doing. With the help of child-friendly art brands such as Elm Tree, here are a few simple ideas on how you can leverage art to support your child's mental health:
1. Replace screen time with art activities
Information overload from digital devices is an ever-present struggle in many children's lives. A child's natural curiosity coupled with the lack of ability to disengage, may put them in a position where they are highly susceptible to information overload, which can result in overstimulation of senses and a loss of ability to concentrate.
While technology can provide information and tools essential for a kid's academic learning and performance, young children need to experience tech-free unstructured creative time.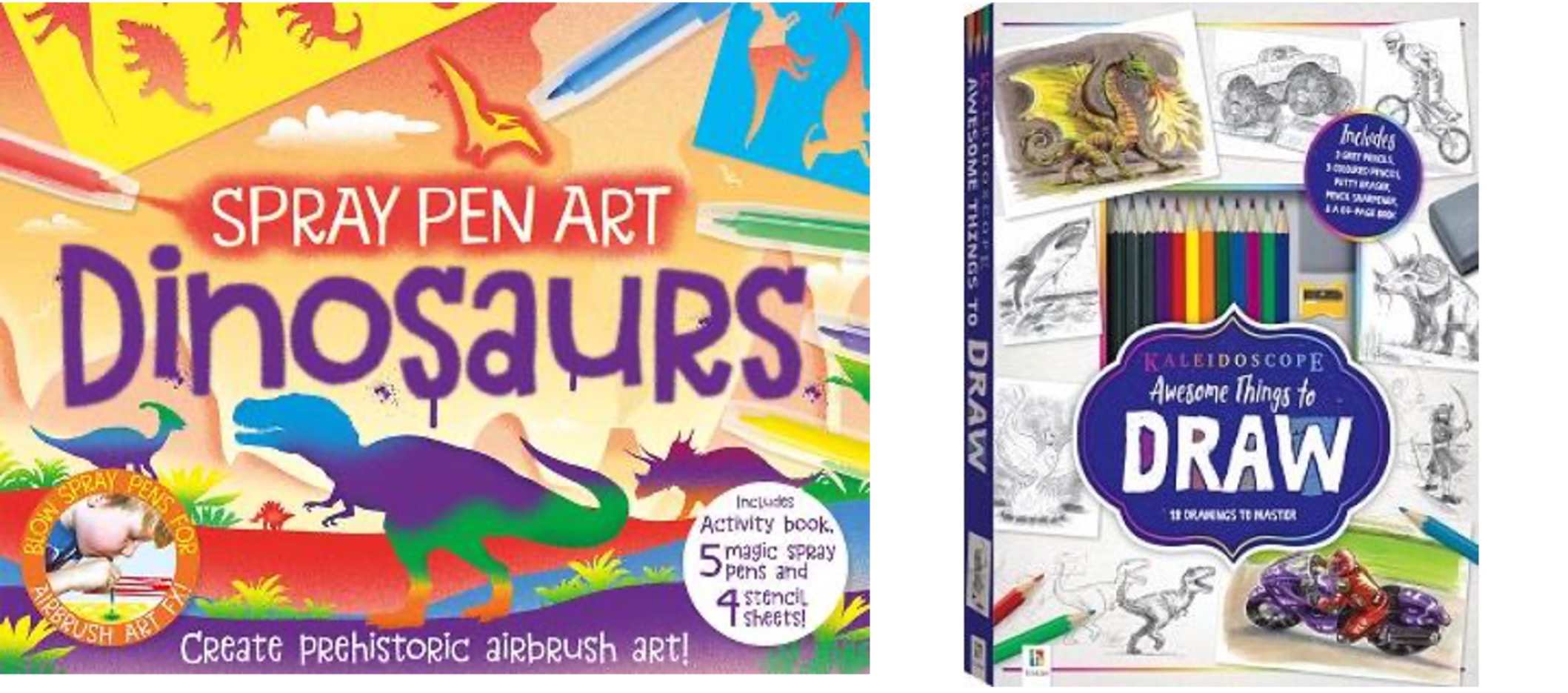 Elm Tree offers plenty of thematic art supplies from Dinosaur spray paints and drawing kits to Unicorn magic ink pen book sets. Inspired by cartoon characters like Paw Patrol and My Little Pony, Elm Tree's magic ink book sets include interactive features such as games and puzzles to keep your child engaged during the activity.

Engaging in active art activities is a great way to reduce your child's screen time and improve their health and well-being. Studies have shown that creating art, be it through painting or drawing, enhances sensory experiences and improves one's mood and reduce cortisol levels. [1] Reduction of screen time also helps minimize the risk of the development of eye conditions such as digital eye strain or myopia. A study showed school-aged children between 6 to 13 years old are at a higher risk of increasing myopia with increased digital screen time. [2]
2. Practice mindfulness through art
Practices promoting mindfulness have been proven effective in helping to reduce stress and improve overall mental well-being in adults. [3] Mindfulness practices encourage one to become more aware of their thoughts and emotions so that we are better able to deal with them.

For younger children, engaging in mindfulness practices could mean a few minutes of mindful arts and crafts each day. Elm Tree's Mindwaves Calming colouring kit and Grateful colouring kits come with fine tip markers and the book pages are designed to bring out a sense of quiet and tranquility.
Engaging in mindful coloring activities helps kids to stay focused in the present moment and cultivate skills such as self-awareness which are important in strengthening their ability to express their thoughts and emotions.
3. Increase social support through shared art experiences
Art can serve as a shared space between two people. Participating in group art experiences or even sharing artwork with their peers or caregivers, children can build up what researchers call "social capital". During times of stress, these social resources can assist in resiliency and support one's emotional needs.
Things to take note of while engaging in art activities with your children:
Try not to pressure your child to create or perform
Compliment your child's work and provide positive feedback
Create a space that promotes comfort, safety and acceptance.

Elm Tree's Ultimate Origami Kit and Ultimate Paper-plane Book come with simple step-by-step folding instructions and clear diagrams, making them suitable activities to engage your kids with.

Balloon sculpting is another popular activity in which kids can have fun with their peers and learn social skills through creating balloon designs together. Elm Tree's Balloonatics Gift Box comes with 20 modeling balloons where children can bring their favorite animals to life!
Bring out the "artist" in your child with Times Bookstores
Play and art activities are not only fun, but they are an integral part of a child's personal development. Whenever you get the chance, try to incorporate the above activities into your child's daily routine, as they not only will bring out the "artist" in your child but also be beneficial for your child's overall well-being.

Remember that a healthy and happy child or teenager is able to concentrate well in school and face challenges better in life! Looking to get your kids on these creative interactive platforms? You may purchase them through Times Bookstores which holds a wide variety of Elm Tree's fun print books and art supplies suitable for children of all ages. There is no better time than now to lay your hands on them, as the following retail outlets are currently running a special promotion of 20% discount on the products:
Times Jelita, #02-16
Times Plaza Singapura, #04-05
Times Waterway Point, #02-19
Times Junior Jewel, #04-220
The promotion is valid till 30 June 2022 or while stocks last. For more information on the products, you may visit Times Bookstores promotions page.
References
[1] Kaimal, G., Ray, K., & Muniz, J. (2016). Reduction of Cortisol Levels and Participants' Responses Following Art Making. Art therapy : journal of the American Art Therapy Association, 33(2), 74–80. https://doi.org/10.1080/07421656.2016.1166832
[2]  Wang, J., Li, Y., Musch, D. C., Wei, N., Qi, X., Ding, G., Li, X., Li, J., Song, L., Zhang, Y., Ning, Y., Zeng, X., Hua, N., Li, S., & Qian, X. (2021). Progression of Myopia in School-Aged Children After COVID-19 Home Confinement. JAMA ophthalmology, 139(3), 293–300. https://doi.org/10.1001/jamaophthalmol.2020.6239
[3] American Psychological Association. (2019, October 30). Mindfulness meditation: A research-proven way to reduce stress. https://www.apa.org/topics/mindfulness/meditation