Children's Season at the National Museum of Singapore 2022: Get Curious! Our Early Settlers
Here in Singapore, many families are descendants of immigrants who journeyed here in the 1900s from places like Malaysia, India, and China. How well do you know your family history? Does your family share stories of what your grandparents or even great-grandparents did for a living?
This June school holidays, travel back in time to meet some of Singapore's early settlers at the National Museum of Singapore! Themed Get Curious! Our Early Settlers, this edition of the museum's annual Children's Season features five interactive installation spaces and a range of fun on-site and online programmes, suitable for children from the ages of 3 to 12. Here are some highlights you should not miss!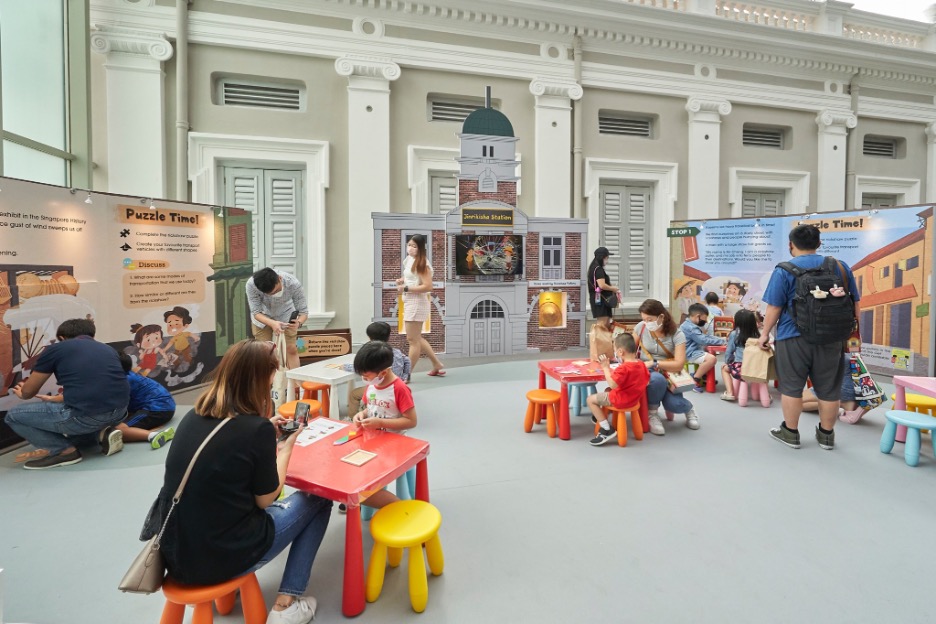 Installations in the National Museum: Our Early Settlers
Head to Level 2 of the museum and you will find five colourful installation spaces, featuring the rickshaw puller, rubber tapper, food peddler, amah, and an activity space.
At each space, you will first notice a storyboard narrated by Professor Alvis and his niece Bernice. They are characters from the 2021 Creative Conversations: Shaping Our Future resource kit, developed by the Early Childhood Development Agency (ECDA) for parents and educators in partnership with the National Museum, and on which the installations are now based. As you visit the installations in sequence, the storyboards will lead you through Professor Alvis and Bernice's curious adventure in the museum!
Have fun, get creative and learn together as a family by piecing together a magnetic puzzle of a rickshaw, using tangram pieces to create your favourite transport vehicles, and identifying the correct amount of money to pay the food peddler for kueh. A crowd favourite will be the Tan Family House, a small but picture-worthy model of a Peranakan house that you can actually step into, and where you can place various amah character boards corresponding to the different chores that she is doing!

Discussion questions such as "What are some challenges a rubber tapper might face at work?" also provide a good opportunity for parents to introduce to your little ones the values that these early settlers embodied, such as perseverance, resilience, and determination.
Character Trail – Spot our Early Settlers!
After visiting the installations, you can also explore the galleries to spot artefacts related to the rickshaw puller, rubber tapper, food peddler, amah – and a mystery fifth character! Complete an online quiz based on these characters and redeem a pack of Fruity Trix cereal sponsored by Nestle – the perfect sweet reward to replenish your energy after all that walking!
Start and redemption point for the Character Trail: Activity Space at Level 2 of the museum.

What's Your Toy Story? Campaign
Don't forget to stop by the Growing Up gallery on Level 2 and join the What's Your Toy Story? Campaign! This third edition of the campaign focuses on toys based on favourite childhood cartoon characters (perhaps Mickey Mouse, X-Men or My Little Pony?), and invites visitors of all ages to share why the toy is so special to them. Ten visitors with the most interesting entries stand to win vouchers sponsored by Plano! In the gallery, you can also view the winning entries from the earlier edition.

Visit the National Museum's website for the full list of Children's Season offerings today!
Family Resources
Families keen to further explore the galleries at your own pace will be glad to know that the National Museum has two family resources to guide you, introducing a selection of artefacts through themes familiar to children.
Get Curious! The Official Interactive Family Guide to the National Museum of Singapore is suitable for children ages 5 to 8. Covering over 40 artefacts in four galleries, this bright yellow book will bring the stories of our past to life for your children, with interactive activities such as red spyglasses and even a page that emits a floral scent when rubbed! While it usually retails at $24.90, you can enjoy a special discounted price of $20 if you purchase your copy during Children's Season from 28 May to 26 Jun.

Parents who might be daunted by the amount of historical content in the museum need not worry, as there is a dedicated section at the back for adults with all you need to know to help your child get the most out of exploring the museum as a family. With this value-for-money activity book, you'll be inspired to make several return visits to the museum to fully exhaust its 116 pages worth of content!

Another option is the museum's Early Learning Resources bite-sized booklets, which introduce pre-schoolers to artefacts according to the themes of ABCs, Numbers, Colours, Shapes, and Opposites. Each themed booklet includes an artefact hunt that can be completed in less than an hour, as well as digital resource kits – activity sheets and videos – which you can use to further engage your child with the artefacts in the book, from the comfort of your home. You can purchase Set A (comprising the ABCs, Numbers and Colours booklets) at $8 and Set B (comprising the Shapes and Opposites booklets) at $6.
Both resources are available for sale at Supermama, The Museum Shop on Level 1 of the museum.
Get ready to Get Curious at the National Museum of Singapore!