Award-winning parental control and eye health app, planoApp, is now available on the new HUAWEI WATCH GT 3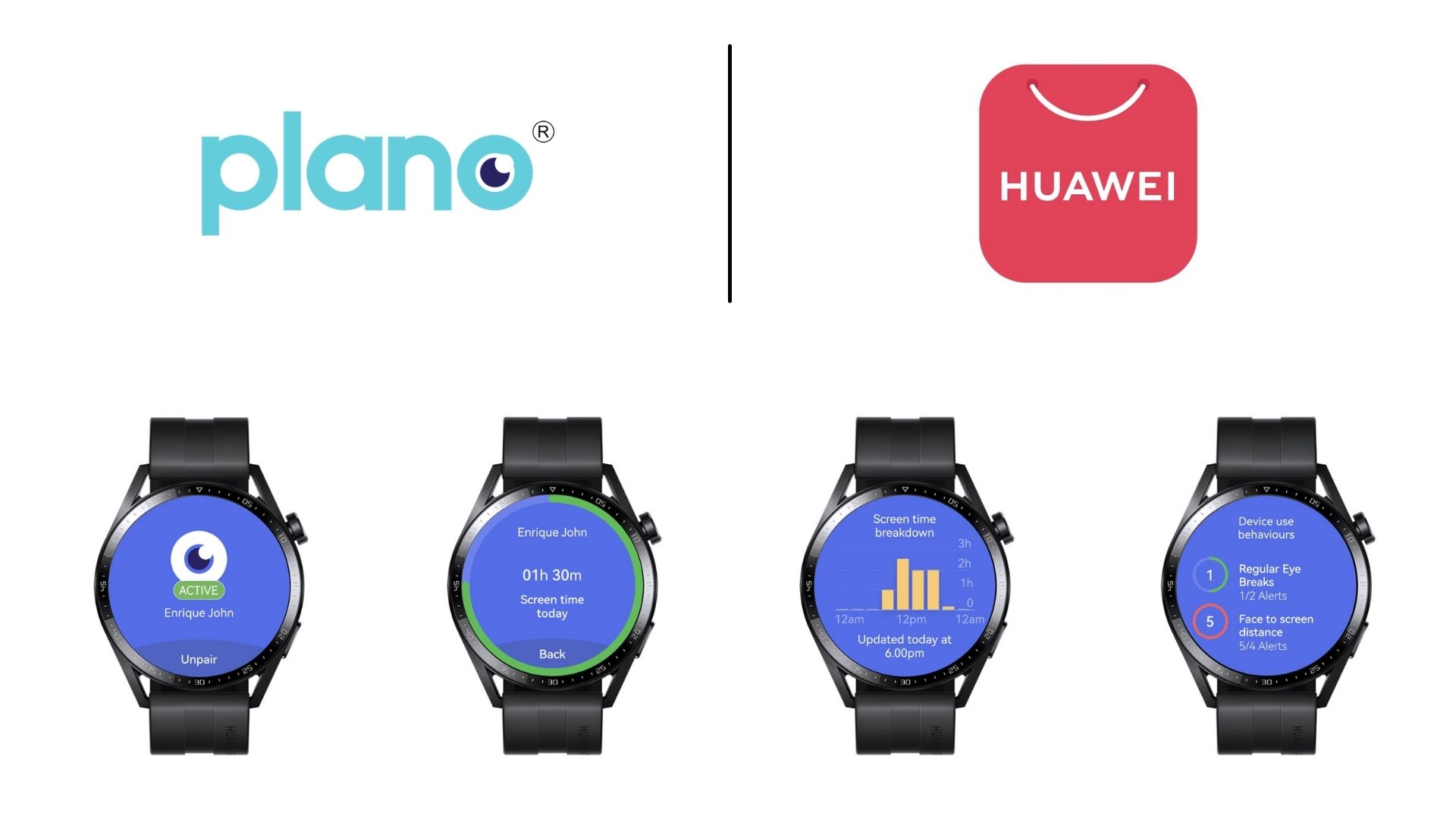 December 20, 2021, Singapore – The award-winning parental control and eye health application, planoApp, that helps encourage behaviours that are protective for myopia (short-sightedness), is now available on the newly released HUAWEI WATCH GT 3.
The planoApp is the world's first science-based parental control and eye health application developed by the Singapore-based health technology company, Plano. The app is one of the company's key products and services that makes up its ecosystem, which also comprises of an online eye health booking platform, planoEyecheck, and its global eye health education-based website.
The planoApp was developed to address the global problem of myopia and digital eye strain, where excessive screen time is a leading contributing factor. Evidence for this link was demonstrated by Plano's global research published in The Lancet Digital Health. Based on scientific research, the planoApp has evolved to include patented functionality to achieve two major objectives: 1) to keep families (with a focus in children) safe online through its parental control functions such as remote locking, location boundary (safe zone), and app blocking; and 2) to protect children's eye health through its eye health functions such as face-to-screen distance monitoring, bad posture alerts, eye break reminders, an in-app e-commerce platform for family activities, and an in-app eye check referral system.
In its entirety, the planoApp has won multiple awards, with the most recent awards being the Best Social Impact Award and the Most Popular App Award in the HUAWEI AppsUp 2021 competition. In less than 4 years, the planoApp has been adopted by more than 500,000 parents from 10 different countries worldwide.
HUAWEI, a Chinese multinational technology company, has recently announced the launch of their new line-up of smartwatches, the HUAWEI WATCH GT 3 and HUAWEI WATCH GT Runner, that are already available in Singapore from 18 December 2021. Powered by HarmonyOS, the HUAWEI WATCH GT 3 delivers a more accurate health and fitness monitoring backed by scientific data as well as a new dynamic interface design. Meanwhile, the HUAWEI GT Runner is the first of its kind smartwatch for runners with a science-based and professional training approach developed from HUAWEI Health Lab.
In August 2021, Plano and HUAWEI announced their partnership to address the global problem of myopia. To mark the first phase of the partnership, the planoApp was made available on the HUAWEI AppGallery and also on the HUAWEI WATCH 3 wearable. The second phase of the partnership involved making the planoApp available on the newly launched HUAWEI WATCH GT 3 wearable, as well as a closer integration of the planoEyecheck platform and Plano's education-based website with HUAWEI's Petal Search mobile search engine.
Plano's Founding Managing Director, Associate Professor Mohamed Dirani and the Plano team have welcomed the next phase of the alignment with Huawei. "The launch of the HUAWEI WATCH GT 3 alongside Plano's technologies showcases both our strong partnership and HUAWEI's commitment to making eye health a part of its digital ecosystem. We are excited to continue our collaborative work with HUAWEI, including further integration into their ecosystem, the Internet of Things, and Research and Development," said Associate Professor Dirani.
"The new HUAWEI WATCH GT 3 is the latest flagship wearable designed for the urban explorers, offering science-based upgrades in both form and functionality. We are thrilled to have Plano as a valued partner once again to deliver a meaningful and enriching experience for users", said Sun Peiyuan, Head of Singapore Device Ecosystem Development & Operations.
planoApp users on HUAWEI mobile devices can now view their child's personalised device use activity report on the new HUAWEI WATCH GT 3. The report includes a breakdown of their child's total and hourly daily screen time, as well as their child's eye health and device use behaviours. To celebrate the release of the planoApp on the HUAWEI WATCH GT 3, Plano and HUAWEI have organised a whole array of Christmas giveaways and amazing events in the month of December 2021.
About Plano
Plano was developed with a clear purpose; to save sight and empower lives. With a culture of disruptive thinking grounded in real scientific research, Plano promotes the use of innovative technology to provide a solution to help mitigate the public health, societal and economic issues posed by excessive device usage. Plano's Founding Managing Director, Associate Professor Mohamed Dirani, has dedicated his life to the study and research of myopia, and is an Adjunct Associate Professor at Duke-NUS Medical School and an Honorary Principal Investigator at the Singapore Eye Research Institute (SERI) and the Centre for Eye Research Australia (CERA). www.plano.co
About Huawei AppGallery
AppGallery is a smart and innovative ecosystem that allows developers to create unique experiences for consumers. Its unique HMS Core allows apps to be integrated across different devices, delivering more convenience and a smoother experience as part of the wider "1+8+N" strategy at Huawei.
With AppGallery, Huawei's vision is to make an open, innovative app distribution platform that is accessible to consumers while strictly protecting users' privacy and security. AppGallery offers a wide variety of global and local Apps across 18 categories and is available in more than 170 countries and regions with over 550 million monthly active users globally.
For more information please visit: https://consumer.huawei.com/sg/
Media Contact
Edris Dzulkifli
Plano Pte. Ltd.
E-mail: media@plano.co
Telephone: +65 9757 6762