School's out – finally! Keen to take your family for interesting activities outdoors instead of remaining cooped up at home? Still not planning any overseas trips for the moment? Well, head down to the Singapore Discovery Centre at the far west end of our sunny island for a fun outing where loads of exciting and immersive experiences await!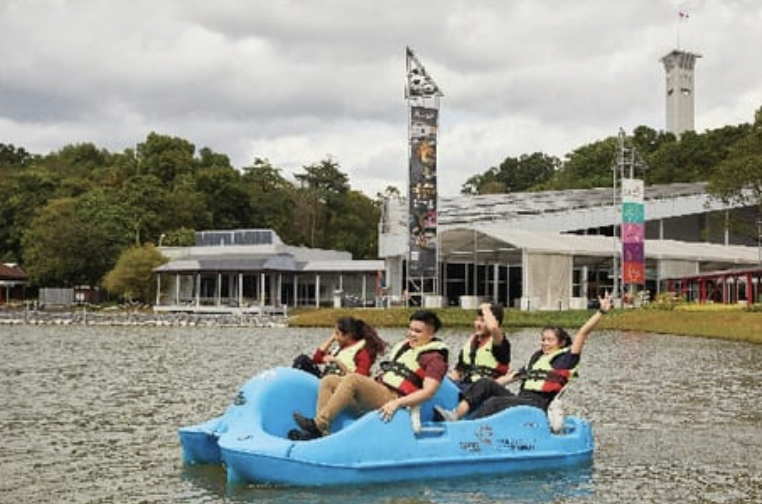 Permanent Exhibits Gallery: Through The Lens of Time
Travel back in time with your kiddos to discover Singapore's early history via contemporary perspectives. Embark on an exciting visual journey when Singapore was a maritime emporium and see how Singapore survived the horrors of war. Augmented reality games would enable you and your kiddos to experience what it was like fighting battles against our enemies – such as the famous Battle of Opium Hill. Through lots of interactive games and audio-visual aids, this gallery would certainly enrich your understanding of Singapore's history!
Permanent Exhibits Gallery: Sandbox
Instead of letting your kiddos remain glued to their digital screens at home, why not check out the launch of Sandbox, a new experience at the Singapore Discovery Centre's Permanent Exhibits Gallery, to learn more about our multi-faceted, present-day Singapore? Sandbox enables visitors to discover the complexities of contemporary Singapore and encourages visitors to envision the nation's collective future together, by participating in an immersive AR experience with gamification elements. Hence your kiddos can get to learn about the Singapore Story while not missing out on fun and engagement!
Black Lake Laser Battlefield – Laser Tag
As a family, engage in the most immersive laser tag experience in Singapore as you exercise your teamwork and tactile skills to see who emerges as the top shooter. Using revolutionary projection mapping, experience a battlefield with interactive changeable combat simulations, and different worlds like zombie apocalypse and extra-terrestrial beings. Enjoy the adrenaline rush, while making fun memories along the way!
*Minimum age requirement applies
Black Lake Facility – Escape Room (4 chapters)
If you think you can only flex your muscles and movements outdoors, think again. At Black Lake Facility, you and your family can participate in this multi-sensorial adventure via its escape rooms. This facility provides the largest and most engaging escape room experience in Singapore that spans 2 storeys. Crack mysteries and puzzles along the way as you wiggle, crawl and cinch along the various chapters in those rooms as a family!
XD Theatre Ride – 2 shows
Remain at the edges of your seats as you join a thrill ride with the XD Theatre's 4D simulation rides that boast the state-of-the-art technology. Select your thrill ride from either the Sky Hunt or Pinnochio adventures -before immersing your senses into the world of 4D technology!
*Minimum height requirement applies.
iWERKS Theatre
Participate in a genuinely cinematic experience at the iWERKS Theatre where you and your family can enjoy blockbuster movies with a five-storey high screen and a top-notch sound system. Get the popcorn ready!
Singapore Discovery Centre's Crossfire Paintball
Wanna feel the sting of paintballs hitting you? Head down to Singapore's only multi-tiered paintball arena at the Singapore Discovery Centre where you and your family can have loads of fun tagging each other to see who emerges as the ultimate winner of the game!
*Minimum age requirement applies.
SDC's Pedal Boat
Craving for a water respite? Rent out some pedal boats (2 to 4 pax per boat) and head out for a tranquil water excursion around the Discovery Lake while soaking in Vitamin D!
What are you waiting for? Head down to the Singapore Discovery Centre now for your next fun family outing!