If your kiddos have complained to you that they are getting bored of their exercise routine, and would prefer playing video games and watching television programmes on their screens, you probably are not alone. Sometimes, exercise routines can get monotonous and dull for both children and adults, without any tangible reward in sight. Moreover, the process of exercising can be repetitive and hence dull for hyperactive kiddos with energy bursting at the seams. As a result, children and even adults slowly lose interest in performing those regular exercise routines. Therefore, if you are looking for other more engaging and thrilling experiences to flex your kiddos' bodily muscles, NERF Action Xperience has you covered!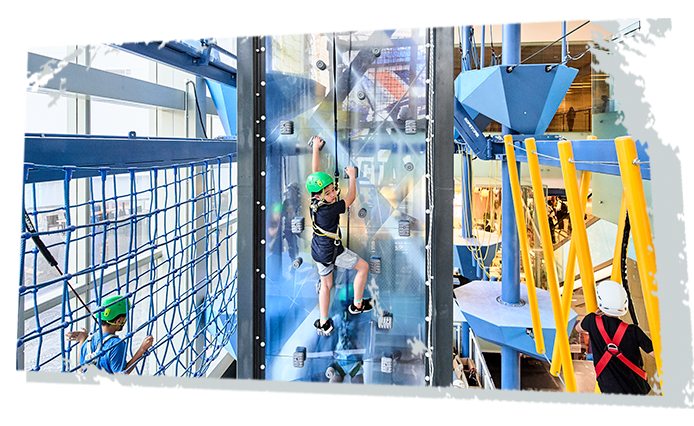 How your kids can be fit with NERF Action Xperience
Select some physical activities that entertain and engage your little ones as well as offer a sense of accomplishment at the very end. For instance, NERF Action Xperience (NERFAX) provides thrilling experiences in a multiple-themed arena filled with creative outlets to liven your children's exercise routines!
How your kids can turbocharge your fitness routine with NERFAX
Get some adrenaline-pumping with NERFAX's activities
Stimulating activities to release adrenaline would enable a healthy and well-rounded fitness routine! Adventure seekers would enjoy NERFAX's high-stake obstacle courses at the "Conquer" zone. In the various obstacle courses, your kiddos can try to traverse high terrains and experience an adrenaline pump from conquering the landscapes! Furthermore, your kiddos can locate hidden missiles, and blast physical and digital zombies with a NERF blaster at Zombie city.
At Camp Dune, your kiddos can blast opponents using a NERF blaster, and collect the team's coloured flag to take to home base. The Ice Cliff – a dual climbing wall – would boost your kiddos' competitive streak. Test for accuracy and speed at Conquer the Summit – an exhilarating rope course of 2 high levels.
If your little ones are feeling brave, they can try the Conquer the Volcano, an obstacle course to defy gravity. Otherwise, your kiddos can try Conquer the Glacier – an adrenaline-pumping drop slide.
If your kiddos are feeling creative, they can design a unique tote bag or T-shirt using NERF Super Soaker blasters filled with fabric paint. Note that each game takes approximately 15 minutes, including the safety and gameplay briefing.
Vital to diversify their exercise routine
By diversifying the type of activities your kiddos do, as well as their intensities, you can help your kids to burn as many calories as possible to remain fit and healthy. Repeated activities would train your kiddos' bodies to be more adept in doing them, thus preventing them from burning maximum calories. Also, repeated activities could strain muscles in certain parts of your kiddos' bodies, causing discomfort and pain. Instead, NERFAX, with its diverse and engaging theme-based stations, enables your kiddos to rotate among several high-intensity activities to constantly challenge their muscles!
Besides, NERFAX activities are not only fun but give a sense of accomplishment. Be rewarded with sky-high views and a sense of accomplishment when you conquer your fear of heights by ascending to the summit at the Conquer zone. . Get those creative juices flowing at the "Create" zone, which is part of the rewarding and fun element of the entire arena.
Get your kiddos to challenge their family and friends at various play zones to build lasting memories with them!  For example, engage in a friendly competition at the high-energy training circuit at the "Challenge" zone and burst out into laughter as your kiddos complete the tasks with loved ones and friends!
Strengthen your mind, not just your body
An obstacle course like the one offered by NERFAX enables your kiddos to take time off their digital screens as well as confront their fears (such as fear of heights). By successfully completing these activities as NERFAX< your kiddos would hopefully feel more confident and accomplished. What is more, they could sweat it out and stay healthy, both physically and mentally.  For more details, check out how you can maximize NERFAX to stay fit as well as find out more about the venue and the facilities of the NERF Action Xperience.