Double Eyelid – What is it and how do I treat it?
A distinctive feature that varies among people is the presence or lack of creases on the upper eyelid. Some people have visible eyelid creases (double eyelids) and some are born without eyelid creases (monolid or single lid). From a medical perspective, there is nothing wrong with either.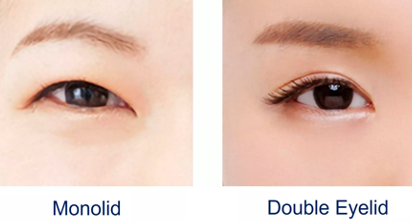 Monolid vs double eyelid. (Source: Dream Plastic Surgery)
What are Double Eyelids?
It has a crease on the skin of the upper eyelid. Certain cultures, particularly Asian tend to associate double eyelids with beauty [1].
Why do some people have Double Eyelids?
The genetic component behind double eyelids is dominant. Only 1 parent needs to pass it down to their child. On the other hand, the gene for monolids is recessive, meaning both parents need to pass it down for a child to have no eyelid crease.
Double Eyelid surgical options
Surgery is an option to form them. This can be done for cosmetic reasons or for functional reasons when a mono or single eyelid interferes with vision.
Double eyelid surgery is the most common type of plastic surgery in East Asia [2] and was one of the top 5 cosmetic surgeries in the United States in 2019 [3].
When deciding on surgical options, talk to your health and/or eye care professional about your eye shape, facial structure and goals for surgery.
Blepharoplasty
Double eyelid surgery or blepharoplasty is a cosmetic procedure. In upper eyelid blepharoplasty, loose skin along the upper eyelid is removed to reduce the monolid appearance.
Blepharoplasty is also a surgical procedure for ptosis (droopy eyelids) and hooded eyes.
There are 3 options for double eyelid surgery.
An incision or cut is made along the eyelid and the extra tissue is removed. This method allows for more customization of the final results. As the skin on the upper eyelid is the thinnest in the body, a small and light scar may be present, however, only visible when the eyes are fully closed. The sutures (stitches) used will fall out within about 1 week and do not require removal. Depending on how an individual's skin ages, results can last for about 7 to 10 years [4].
Small cuts are made to create an eyelid crease with 3 buried sutures (stitches). The partial incision allows for a shorter recovery and leaves no scar. On the downside, there is a high possibility of the monolid recurring within about 5 years [5].

Incision method for double eyelid surgery (Source: Allure Plastic Surgery)
In this procedure, 6 sutures (stitches) are placed at the lash line and held stable with beads to prevent the sutures from cutting into the skin. Several days later, after the double eyelid has been created by scarring, the sutures are removed. This method is the least invasive but causes inflammation, triggering scarring which forms the double eyelid.

Non-incision method for double eyelid surgery (Source: Allure Plastic Surgery)
Double Eyelid surgery recovery
Recovery will be different depending on the technique used. With partial incision and non-incision techniques, recovery takes about 2 weeks [6]. With the full incision technique, the initial healing time is about 2 weeks and full healing can take months.
As with any surgical procedure, there is a risk of complications. It's important to monitor any new or worsening symptoms closely and consult your eye care professional on any concerns. Your eye and/or health care professional will guide you on how to care for your eyelids after surgery as well as managing pain and discomfort.
Who do I visit for Double Eyelid surgery?
Blepharoplasty is performed by an oculoplastic surgeon who is an eye surgeon or ophthalmologist that has undergone specialized training in the reconstruction of the functioning of the eye and the facial regions around the eye.
Blepharoplasty (double eyelid surgery) can be performed by an oculoplastic surgeon or a plastic surgeon together with a brow lift or facelift. The surgery is performed on an outpatient basis.
Double Eyelid non-surgical options
There are temporary cosmetic solutions that allow the transformation of monolids to double eyelids for those that are not keen and/or suitable for surgery.
Eyelid tape
This tape comes in crescent-shaped strips. As it varies between brands, to best achieve the double eyelid effect, follow the steps stated on the packaging.
Eyelid glue
Eyelid glue is applied to the top of the eyelid using a brush that is provided with the bottle. The application instructions are similar to that of eyelid tape and are stated on the packaging.
Maintain hygiene by washing your hands before applying these products. Keep the area around your eyes clean and stop using immediately if you develop irritation, pain and/or any other symptoms.
The surgery is mostly a personal preference. It's best to consult with your eye care professional and/or plastic surgeon to find out if you're eligible as well as weigh the benefits and risks of the procedure.
References:
[1] Lu TY, Kadir K, Ngeow WC, Othman SA. The prevalence of double eyelid and the 3D measurement of orbital soft tissue in Malays and Chinese, Sci Rep, 2017 Nov, vol. 7, no.1, pp. 1481-9, doi:10.1038/s41598-017-14829-4.
[2] Chen CC, Tai HC, Huang CL. Chen's Double Eyelid Fold Ratio. Plast Reconstr Surg Glob Open, April 2016, vol. 20, no. 4, pp. 4: e681, doi:10.1097/GOX.0000000000000655.
[3] American Society of Plastic Surgeons. 2019 Plastic Surgery Statistics Report.
[4] "Eyelid surgery (blepharoplasty)", The University of Kansas Health System. [Online]. Available: https://www.kufacialplasticsurgery.com/cosmetic/eyelid-surgery/. [Accessed: 26 Jul 2022]
[5] Mizuno T. Treatment of suture-related complications of buried-suture double-eyelid blepharoplasty in Asians. Plast Reconstr Surg Glob Open, Aug 2016, vol. 4, no. 8, pp. 1-6, doi:10.1097/GOX.0000000000000835.
[6] "Pre and post-operative instructions for your eyelid surgery", The University of Kansas Health System. [Online]. Available: https://www.kufacialplasticsurgery.com/patient-information/pre-post-eyelid-surgery-instructions/ [Accessed: 26 Jul 2022]